Push Notifications are a means of communication for brands to reach, engage, and delight their customers. They also enable you to send messages directly to your customers' mobile phones even when their screens are locked! Push Notifications are clickable and allow you to add a call-to-action (CTA) within them.
Such a combination is an ideal communication channel for marketers, and Push Notifications have just been that in recent times. Studies show that Push Notifications can increase app opens by up to 88%. Apps that deploy Push Notifications have retention rates that are 3X higher than apps that do not.
Why are Push Notifications a critical marketing channel, and how do they boost conversions? Read on as we discuss the definition, types of notifications, marketing channels, how they work, their challenges, and best practices for Push Notification marketing.
What are Push Notifications?
Push Notifications are messages that pop up on your customer's mobile devices or desktops, alerting them of new information, communication, or actions they can take on their devices. They provide a quick and easy communication channel for running marketing campaigns, enabling brands to send relevant offers, convey marketing messages, share transactional notifications, and even send reminders.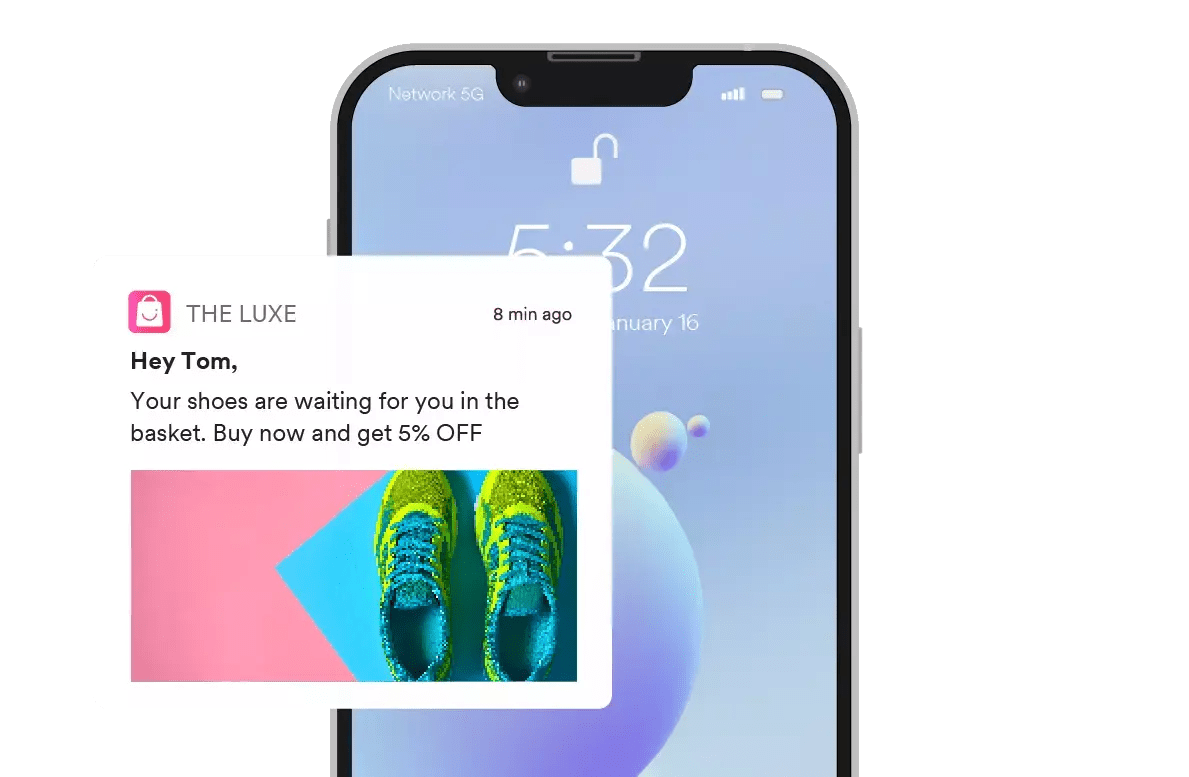 Characteristics of Push Notifications
They are generally sent by a brand's app or website to the customer's device (mobile or desktop/browser)
They provide real-time communication (alerts, messages, reminders)
Push Notifications can range from simple text messages to rich notifications containing images, GIFs, and videos
Push Notifications generally should have relevant content that is personalized to encourage customers to take an intended action depending on their customer journey stage
Mobile Push Notifications can be delivered even if the specific app is not open or even if the phone/computer is in 'locked' mode
Web Push Notifications pop up on the screen when the web browser is open (even if your website isn't open in a tab or a browser window)
You can set up triggered campaigns based on actions taken by the customer
Apart from the above-mentioned characteristics, other significant benefits of Push Notifications are that they can be triggered based on user behavior, boost your app usage and click-through rates, and can be customized according to the situation and the desired outcomes.
Interestingly, text messages are another format that does a similar job. However, mobile Push Notifications and SMS have a few key differences.
Difference Between Mobile Push Notifications vs. SMS
The main difference between mobile Push Notifications and SMS Text messages is their source and delivery points. Mobile Push Notifications are sent via the apps installed on your customers' devices. In contrast, text messages are simply sent to their phone number, either from another registered number or from a brand's customer engagement platform like MoEngage or a notification service like Google's Firebase Cloud Messaging (FCM) for Android Push Notifications or Apple's APNS for iPhone users.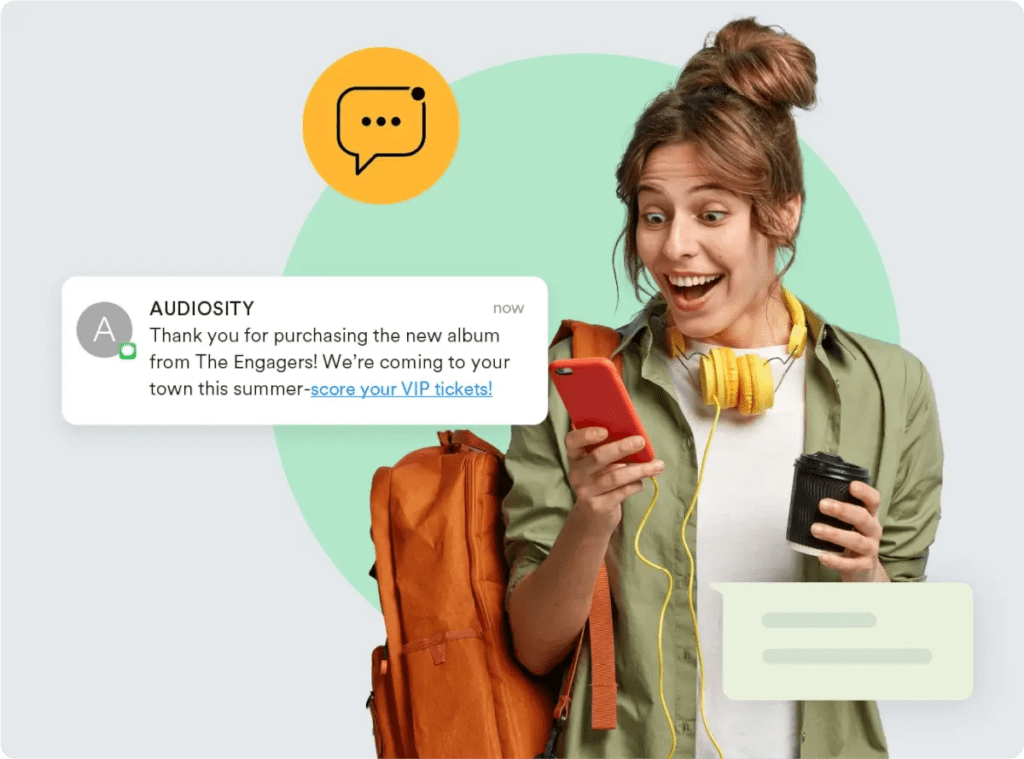 With SMSs, you can add links with a character limit of 160. The delivery, in general, is more reliable, and the customer is pretty much guaranteed to see them. (They have an open rate of 98%).
Here are some other significant differences between Push notifications and SMS on a mobile device:
| | | |
| --- | --- | --- |
| Feature | Mobile Push Notification | SMS |
| Device Used | Sent via apps | Sent via another number |
| Consent | need to download the app and allow notifications. They can revert their decisions later | Customers only need to enable receiving an SMS and other text messages |
| Interaction | Push Notifications are limited to customer engagement with an app | Brands have the flexibility to send their customers anywhere on the web |
| Intended Outcome | Even though brands can offer various CTAs, the most common result is a higher app engagement | SMS can help in conversations, support, alerts, and logistics |
| Media Format | Push Notifications can have text, images, and videos. Character limits vary based on the application | The message is limited to texts, links, and emojis. Brands need to stick to the 160-character limit |
How do Push Notifications Work?
Push Notifications have two components:
1. Sending the message
2. Receiving the message
The system requires a trusted tech environment, like a cloud server, to send the message. Whereas to receive the message, an operating system such as Android, iOS, and the Web client app is required.
How Does Push Notification Delivery Work?
Let's take a customer with at least one active device linked to an active push message token.

A Push Token is a unique identifier assigned by cloud messaging platforms such as Apple Push Notification service (APNS) and Firebase Cloud Messaging (FCM) that help marketers communicate with app customers.
With the help of frequency capping, your customer engagement platform provider, like MoEngage, identifies the active and eligible devices for running your Push Notification campaign. Cloud messaging platforms such as FCM or APNS receive the message from here. These platforms then relay the Push Notification to the end user's device. Once they receive the notification, MoEngage's Software Development Kit (SDK) informs the server about it, and you can see how your Push Notifications perform on MoEngage's dashboard.
Push Notifications run slightly differently depending on the device they are sent to.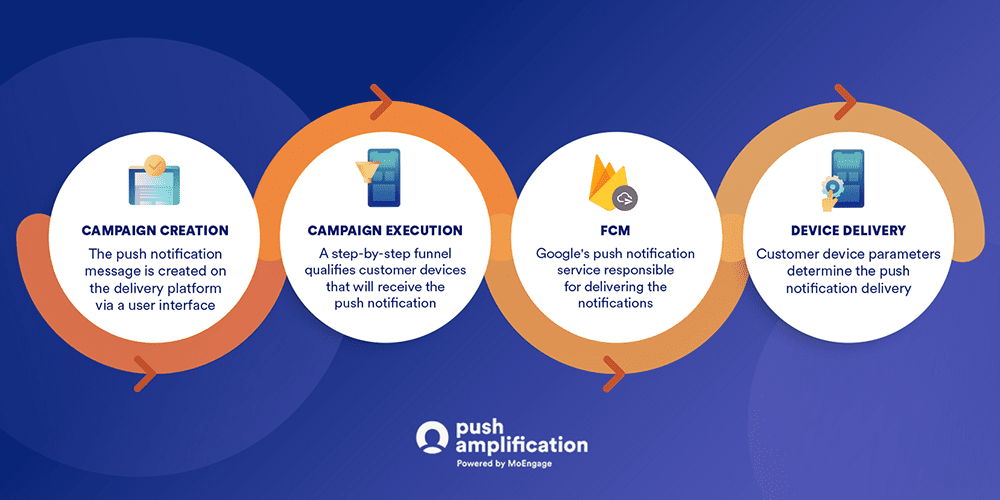 Types of Push Notifications
Web Push Notification
Web Push Notifications can be sent to your customers' browsers, such as Google Chrome. This type of Push Notification can be a great way to nudge customers to return to your website. The result is a spike in website traffic and increased conversions.
These notifications are delivered to the desktop/mobile users' screens anytime they are active on their browser, irrespective of whether or not they're on your website. It's easy to enable web Push Notifications to your website, making them an ideal medium for marketers.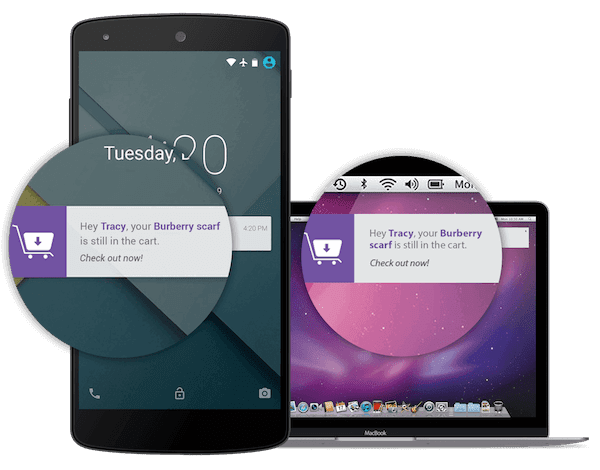 App Push Notification
Similar to desktop Push Notifications, these notifications are triggered by mobile apps installed on your customer's device. When the customer opens your app, the device is registered with the Push Notification service. You can then craft and curate selected content for mobile Push Notifications for these ids.
What is Mobile Push Notification?
Mobile Push Notifications appear in three areas of the phone: the notification center, the banner, and the lock screen. An Android mobile device, owing to the latest Android 13 update, now asks users' permission to receive mobile app Push Notifications on their Android devices.
Notifications for wearables
Smartwatches have become wearable computers for this generation. Consumers can call, mail, and receive notifications via their smartwatches. These devices generally sync with their customers' smartphones, showing the notifications from their mobile devices directly to the watches. The customer can opt-in for notifications from a few apps while disabling the feature for others.
With the screen size of the wearables being smaller, messages on notifications need to be crisp.
Marketers need to understand, customize, and optimize the Push Notifications' look and feel for smartwatches.
With so many devices to reach, it is no wonder marketers use various notification types to improve their reach and engagement with their brand. Let's understand a few of them.
Multiple Types of Push Notification Campaigns (and Best Practices)
Rich Push Notifications
You can only write so much during your Push Notification campaign. Well-thought-out images and videos can tell a story worth a thousand words.
Similarly, emojis allow you to provide a more informal, conversational tone to your communications and convey your messages even if your customer doesn't want to read the entire notification.
Rich Push Notifications allow you to add three clickable links to your message ( 2 CTAs and the notification itself). This will enable you to redirect customers to multiple landing pages if you want them to take different actions. It also lets you understand what CTA works best for your campaigns.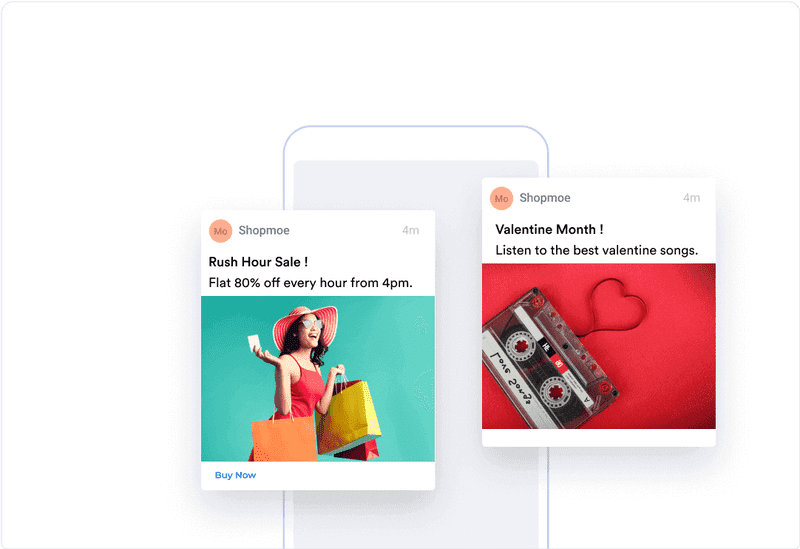 Abandoned Cart Push Notifications
The average smartphone user today often tends to start their shopping journey but leave the purchase midway. This can be due to price point, shipping issues, lack of product availability, technical issues, poorly timed Push Notifications, etc.
An abandoned cart Push Notification strategy retargets these customers and nudges them to complete their transactions. Here are a few ways you can do this:
Schedule a series of notifications with predefined logic and conditions to be sent on a set interval till the time the consumer completes the purchase
Depending on which step of the buying process they left, marketers can use personalization to create custom messages and send Push Notifications to different audience segments
You can also use time-bound Push Notifications with a lucrative discount and use FOMO to nudge them to make a purchase
Once the notification campaign is complete, you can analyze its success and see how many customers got reconverted after the campaign.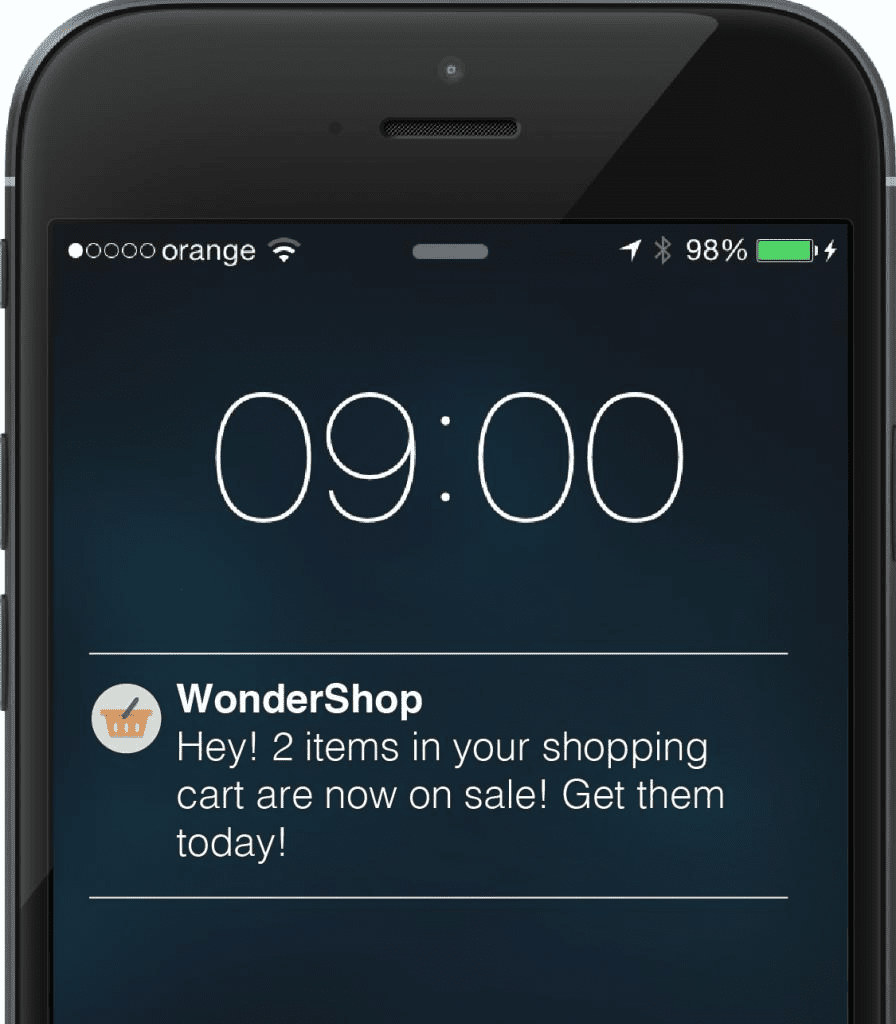 Triggered Push Notifications
Triggered Push Notifications allow you to send messages based on pre-defined rules based on past behavioral data as a best practice and analyze real-time data collected from Push campaigns.
Marketers can create two types of triggered Push Notification campaigns:
Open-ended campaign: Such campaigns are without any exit triggers. You can send a series of in-app notifications. Once the notifications are delivered, the campaign ends.
Closed campaign: In this type of campaign, you have a pre-defined goal, and once that goal is achieved (the customer takes the intended action), their ID is exited from the campaign. Those customers will no longer receive the remaining messages from this series.

Learn how triggered notifications can be a part of your Push Notification marketing.
Personalized Communication
Creating personalized content doesn't just mean sending informal messages or adding the customer's name to your communication. It involves custom attributes, segmenting your customers, carefully crafting content, and sending these Push Notifications. Here are the different facets involved in personalized communication:
Specify your audience: Set up your custom target audience for the campaign. Some of these can range from geolocation, time zone, their interests, and preferences, among many more
Define triggers: Set qualification criteria depending on what pages your customers have visited. This is also the stage where you should set the conditions for the customer to exit your campaign. You should also indicate the goal (or the final action) and the landing page you want your customers to visit.
Line up your communication: Craft a series of personalized notifications based on your earlier research and schedule them for specified timings. You can also set up intervals after which you want your messages to go. Be mindful of the number of notifications you send. Too many or poorly timed notifications can annoy them and lead to increased opt-outs or app uninstalls.
Analyze your campaigns: More than simply running a campaign is needed. You must also monitor the conversion rate, open rates, Push Notification deliverability, and other key metrics to engage better and convert more in your future campaigns.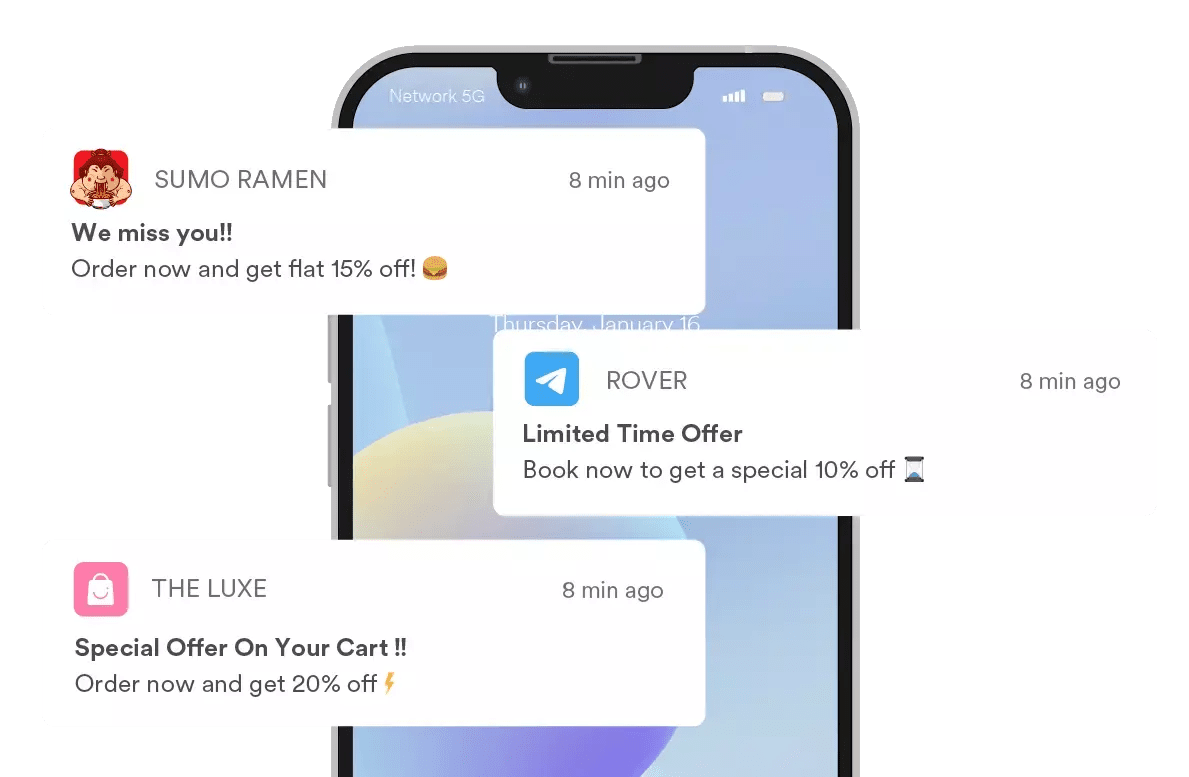 Reminder Notifications
Did a prospect leave their sign-up process incomplete? Did they eye a product, add it to their cart, and abruptly quit the app? Were they buying insurance for their family and left mid-way?
You can send reminder notifications for all the above scenarios, so your customer doesn't miss out on these exciting opportunities. Not only will these delight them, but they will also engage more with your app and boost your app open rates.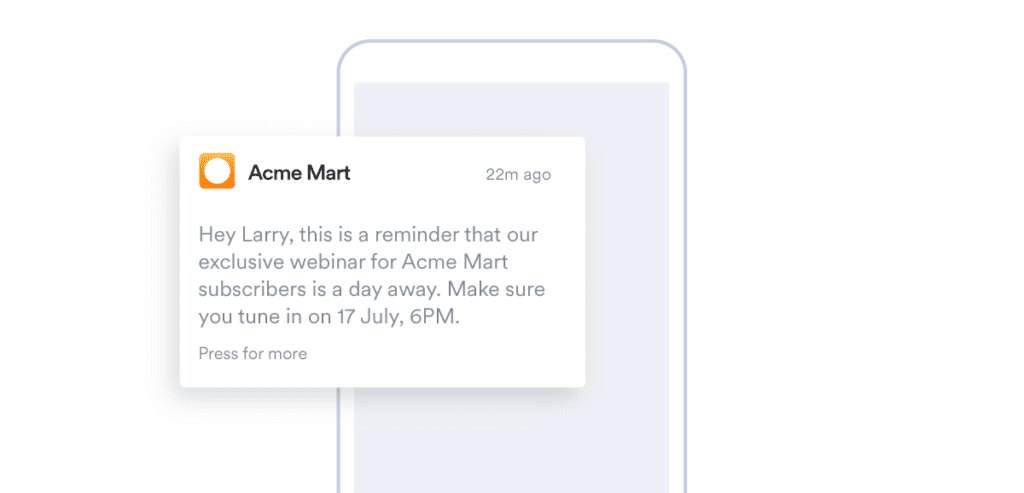 Geo-location Notifications
Anytime you think your customers can act depending on their vicinity to a particular place/product, you can send them Geo-location based notifications.
These notifications are beneficial for nearby restaurants, movie theaters, or even date-match alerts.
Learn how Geo-location notification works and how to make the most of it.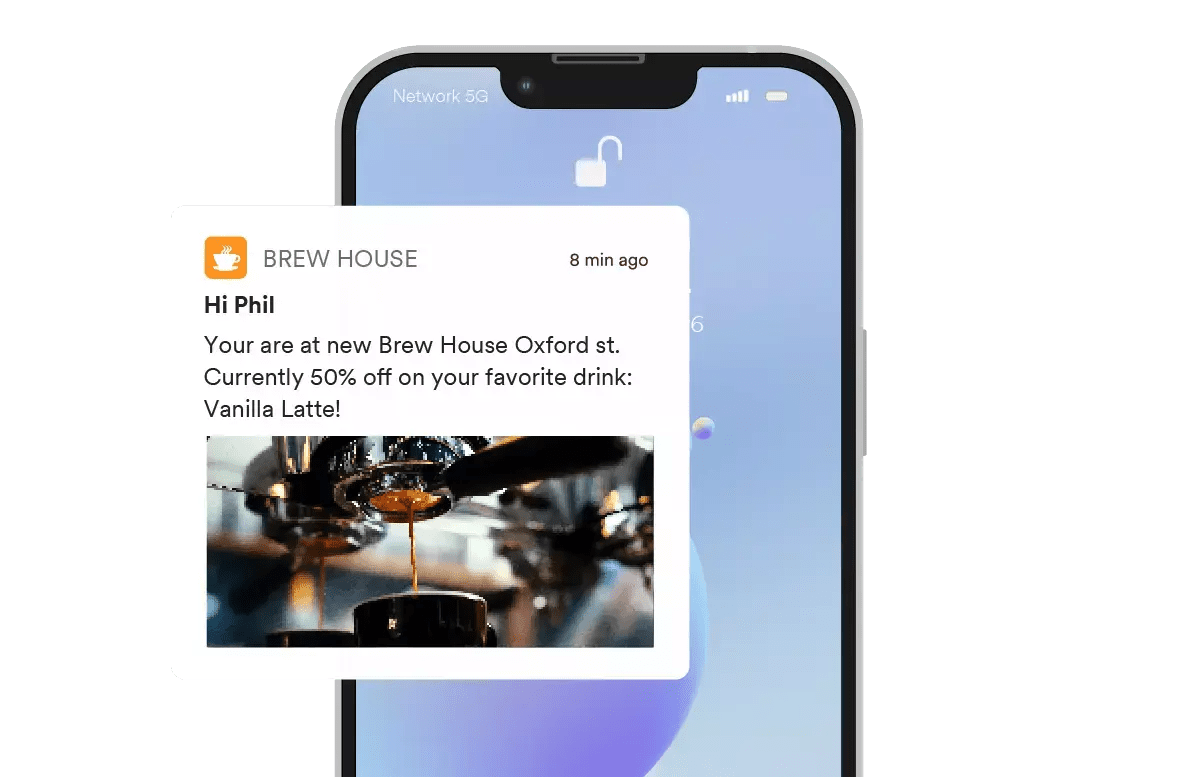 Time-bound Notifications
A time-bound notification creates a sense of urgency or Fear of Missing Out (FOMO) amongst your audience. Any limited-time Push Notification offers such as discounts, flash sales, and products that are soon out of stock come under this category.
For such notifications, you must set the expiry date of notifications once the offer period is over.
Marketers often use various types of Push Notifications depending on the situation, their audience's demographics, and the intended action.
Let's look at what you can achieve via Push Notifications.
Importance of Push Notifications
Push Notifications are used for various goals, including real-time updates, alerts, support, and even transactional notifications. Here are the benefits of implementing Push Notifications as part of your marketing strategy.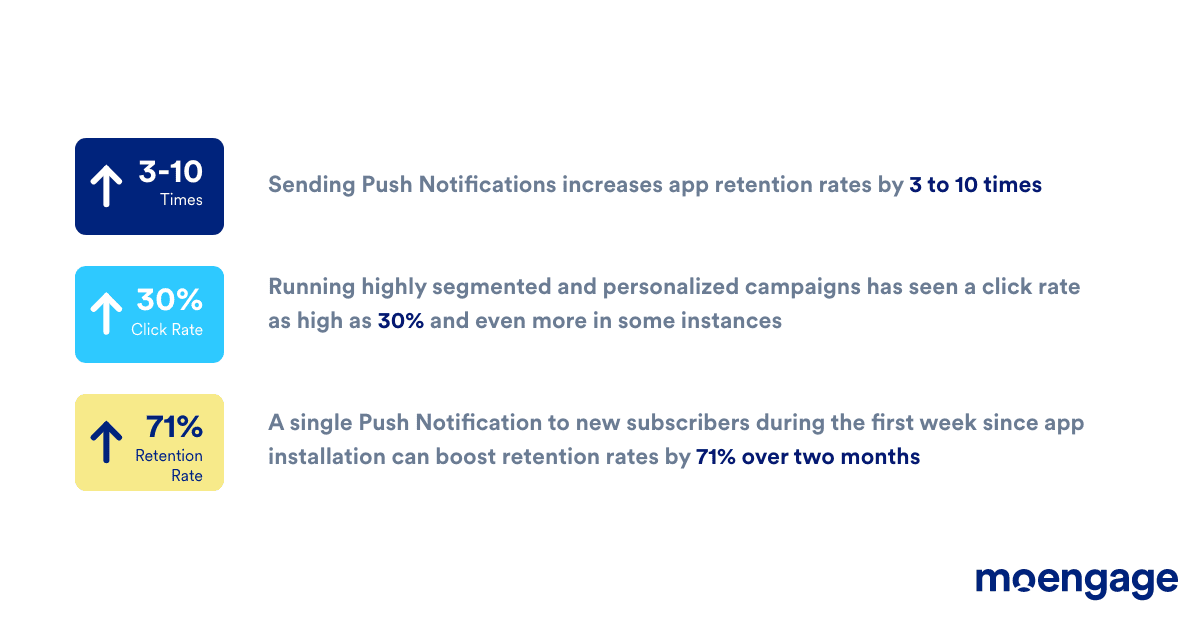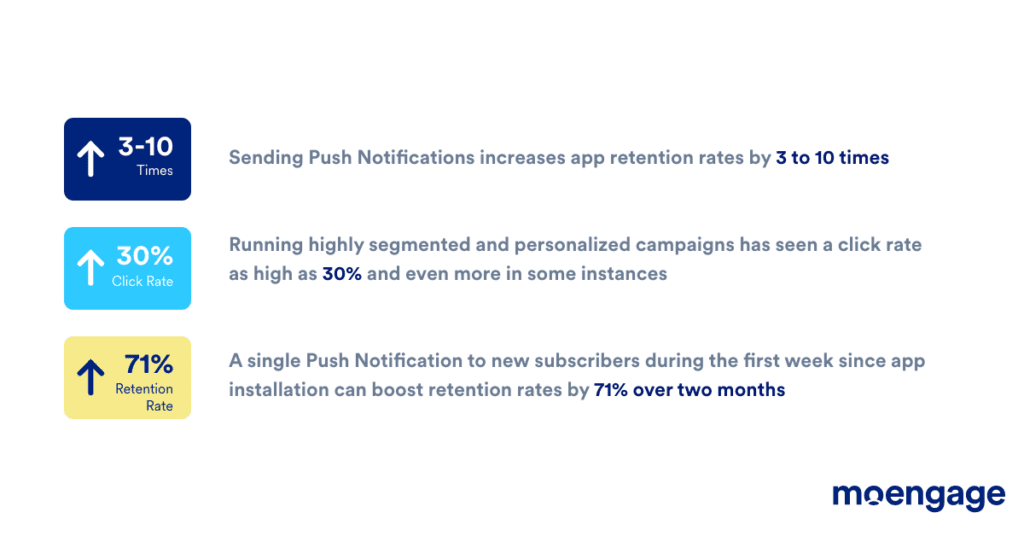 Improves Customer Experience
With Push Notifications, you can send real-time updates about trending news, stories, discount offers, transactional Push Notifications, and inform customers about a new line of products added. Not only that, but marketers can also improve the customer experience with notification personalization, engage with them on their most active channels, and offer new customers custom discounts by sending onboarding notifications.
A real-time notification also allows companies to stand out amidst the digital noise. Push Notifications are a great way to foster a 1:1 relationship with the customer. Such push messages help increase engagement by over 20% per month.

Pro tip: A great way to improve customer experience is to send Push Notifications that provide a seamless onboarding experience. These notifications can explain your app features and show the value of your app. Create and build delightful app experiences with a smooth onboarding experience. Evernote does it wonderfully. It has progress bars that show the time left to complete the onboarding process.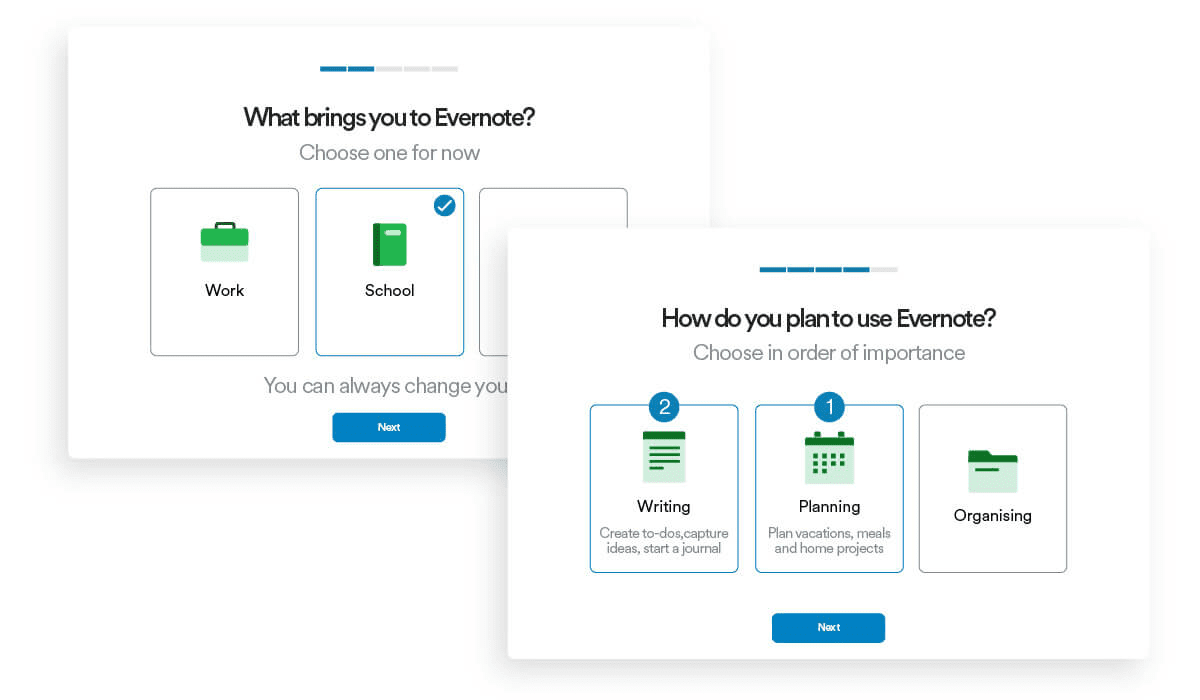 High Engagement With Content Personalization
Push Notifications that are direct to consumers and have content curated to the buyer's journey, demographics, preferences, and behaviors result in 2X engagement.
Thoughtful reminders, retargeting customers with discounts, Push Notifications about upcoming events, app updates, or even weather predictions all increase customer engagement. This also increases audience size, brand awareness, and customer retention.
Increases Revenue Through Monetization
Push Notifications are not just limited to improving audience engagement. They can also be used as separate tools for revenue generation.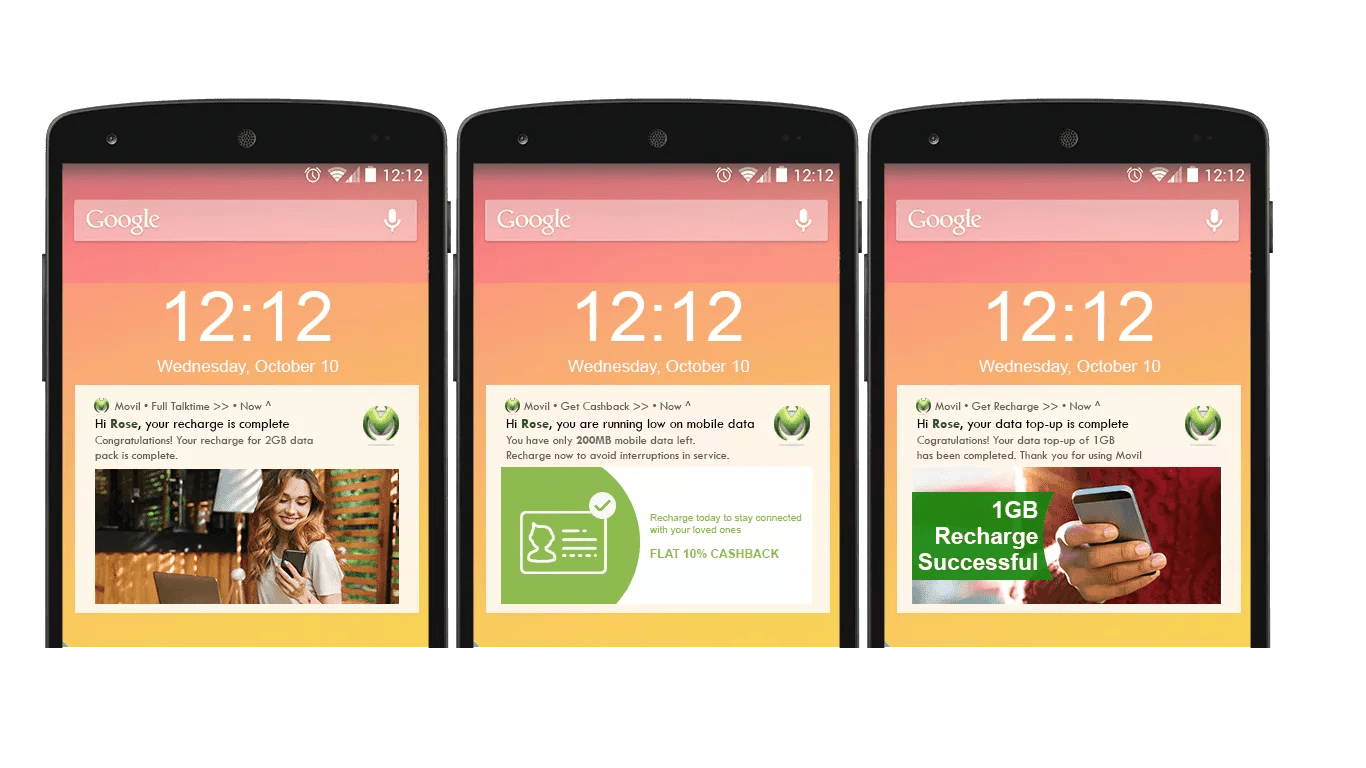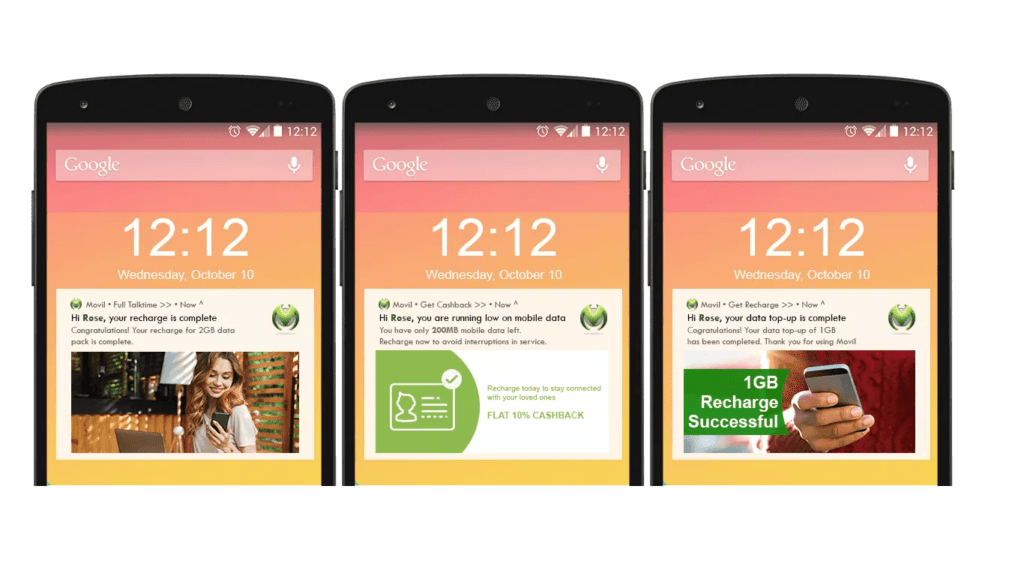 This channel guarantees a certain number of impressions as they pop up on the device's screen, regardless of whether a particular app is opened. Brands thus use this channel for advertising their products and offers to their customers.
Customers seem to be in line with this strategy as well. A recent study conducted by Mantis Research found that roughly 75% of adults are open to receiving Push Notifications if they contain relevant messages.
However, this is irrelevant if your customers don't receive your Push Notification. Studies say that over half of all push messages might not be delivered to the end device. Let's find out why that's the case:
To learn about the power of Push Notifications, read here.
Why do App Push Notifications Fail to Deliver?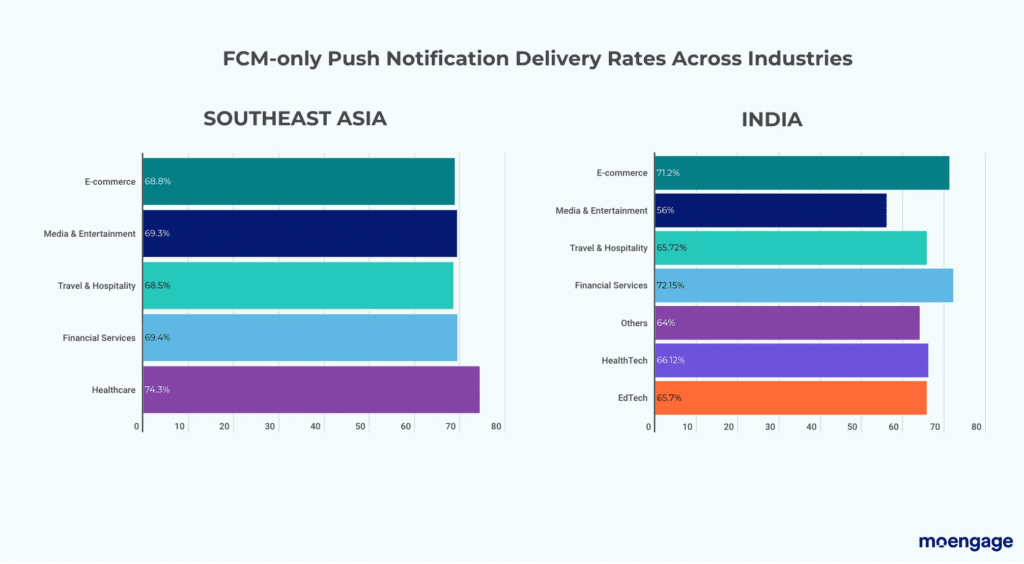 There can be multiple reasons your mobile app Push Notifications are not delivered successfully to your customer's mobile device. Some of them might be:
Mobile devices are disconnected from the network
The customer's operating system has blocked mobile Push Notifications for battery optimization
Push Notifications are disabled on the device
Device and network restrictions of Android phones
Learn more about why your Push Notifications fail to deliver.
Whatever the reason, brands and marketers need to find an alternate way to deliver their Push Notifications directly to their customers' devices. This is where MoEngage's Push Amplification™ comes in.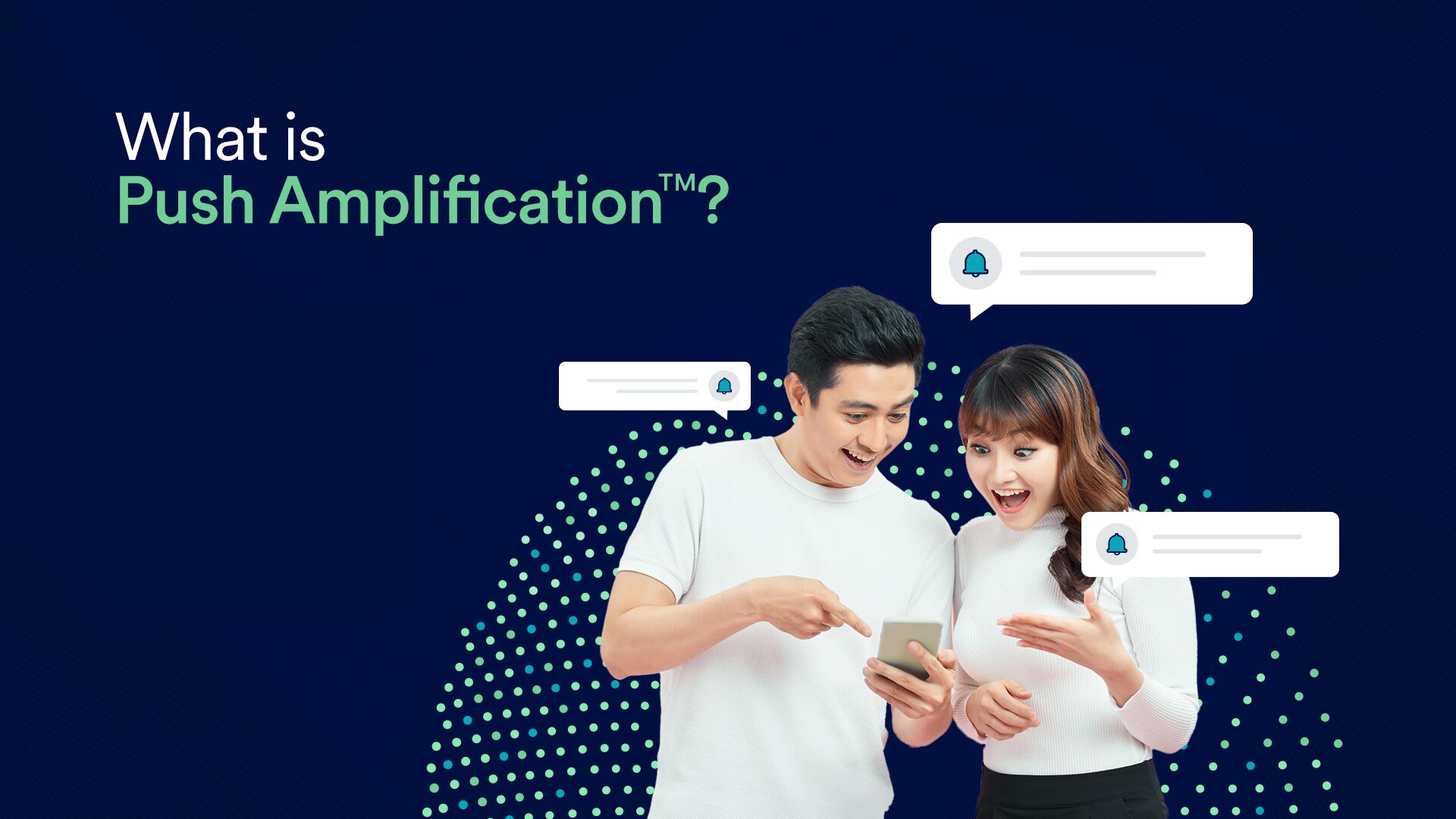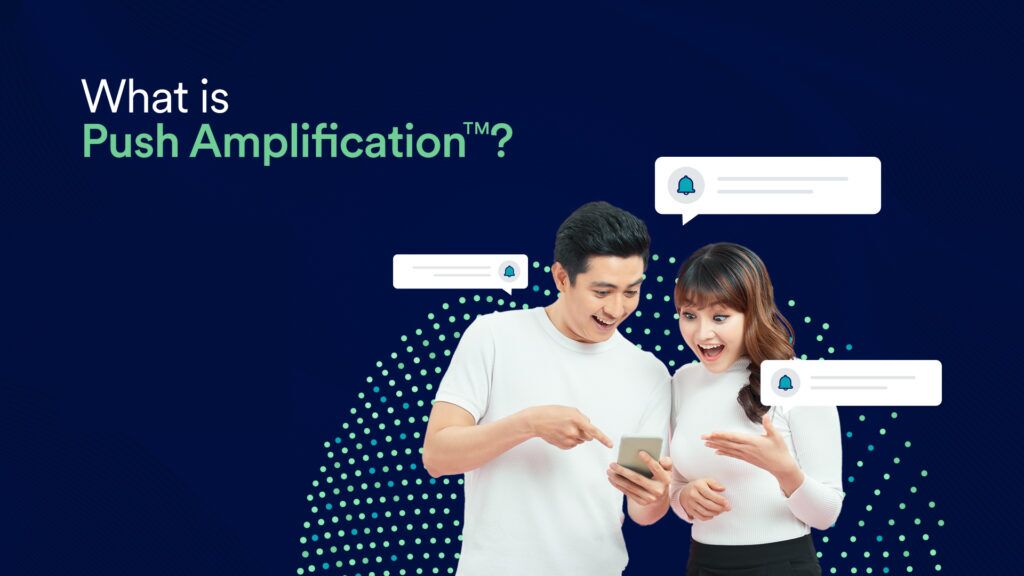 Boosting Push Delivery with Push Amplification™
The Android users' market in Asia is fragmented, and each OEM has its own customizations which impact push delivery. More than half of your Push Notifications are undelivered owing to Android devices and network restrictions.
MoEngage's proprietary Push Amplification™ Plus technology bypasses these restrictions and lets you reach more customers. Push Amplification™ detects the failure in notification delivery and acts as a fallback to the FCM, thereby delivering the notification to customers.

Read more about customers of Push Amplification™.

We measure delivery rates based on messages that actually reach your customer's device. To know more about our Push Amplification™ services, contact us.
Looking to boost your Push Notification delivery rates? Get in touch with us today!